Best cloud service providers:
| | |
| --- | --- |
| 1. | Amazon Web Services |
| 2. | Kamatera |
| 3. | Rackspace |
| 4. | Massive Grid |
| 5.  | Alibaba Cloud |
| 6. | LiquidWeb |
| 7.  | Microsoft Azure |
| 8. | Google Cloud Platform |
| 9. | VMware |
| 10. | Salesforce |
| 11. | Oracle Cloud |
| 12. | Verizon Cloud |
| 13. | Navisite |
| 14. | IBM Cloud |
| 15. | Open Nebula |
| 16. | Pivotal |
| 17. | Cloud Sigma |
| 18. | Dell Cloud |
| 19. | Lime Stone |
| 20. | Quadranet |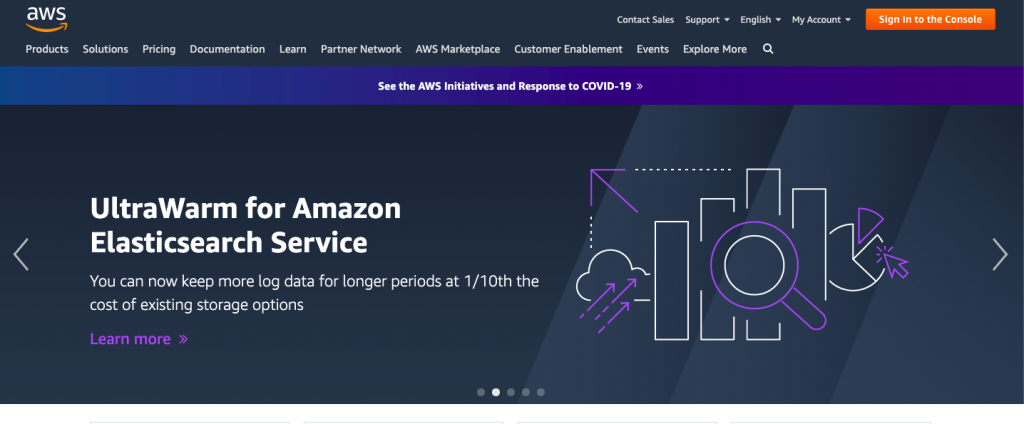 Amazon Web Services was the first as a cloud computing company that came in the market with a promise to provide its customers flexibility in their work. AWS is based on three services named SaaS, PaaS, and IaaS, which act as a building block process. AWS is one of the best cloud computing companies and widely used as one of the best cloud service providers because of its understandable interface, pricing, and highly recommended for its low-cost rate.
Salient Features of Amazon Web Services
AWS offers a 12-month free storage and data management service that makes it exceptional than most other cloud computing companies.

Beginners can watch the tutorial of 10 minutes provided by Amazon Web Services to know the process of working using this Software.

Because of SaaS, one needs an internet connection to access their file on the internet-based Software rather than downloading any software.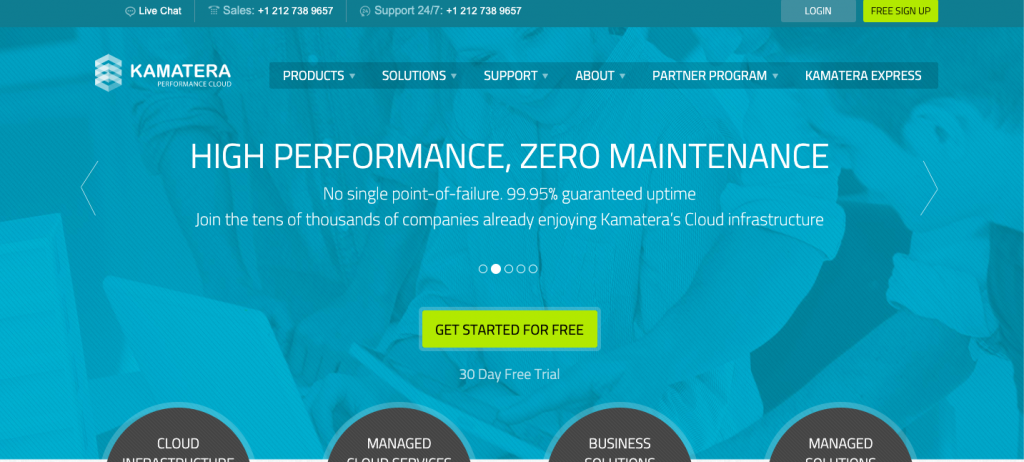 Kamatera is one of the cloud service providers that is working around the world. It is used by organizations from startups to enterprises. Kamatera is free for deploying multiple site data. Kamatera has more than 10 thousand clients all over the world, which justifies that they are one of the best cloud computing companies among its competitors. This cloud storage provider has 13 data centres.
Salient Features of Kamatera
New users on Kamatera get a 30 days trial for free so that users can understand whether they can use it or not.

Kamatera costs at a low-rate so that every customer can effort it and use it as their need without any say.

Kamatera offers two types of payment methods based on usage. One is a monthly payment of $4, and another one is daily payment.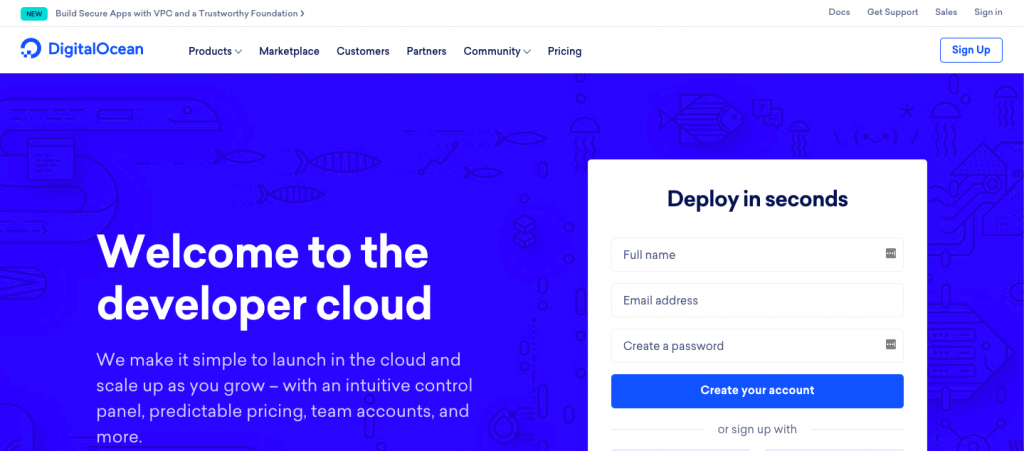 DigitalOcean is one of the best cloud service providers located in New York, America. It only provides a private cloud. This cloud computing company believes that users can create their cloud spending only 55 seconds. DigitalOcean only works with infrastructure for simplifying the design to meet the user understandability. DigitalOcean is the best solution in terms of pricing than any other cloud computing company compared to the performance of CPU.
Salient Features of DigitalOcean
DigitalOcean costs only $5/month for shared CPU known as a standard package and minimum $40/month for dedicated CPU with 3 different packages.

This cloud has the feature of DNS that helps in translating the domain name to IP address easily understood by a computer.

DigitalOcean cloud storage provider also offers VPS (Virtual Private Server) that works with only private cloud servers.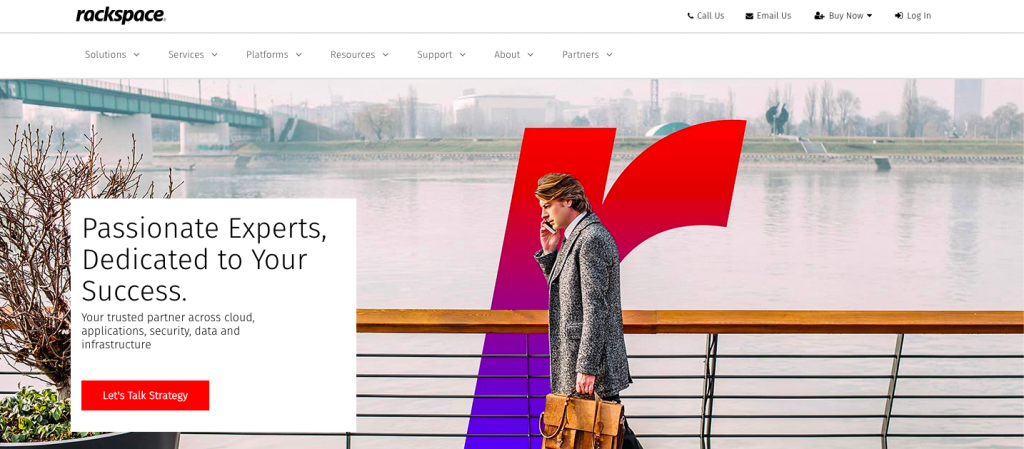 Rackspace is a widely used cloud hosting solution that helps a company to stay aware of the days that are not going to be good enough. The workers working in Rackspace are certified by high-end companies. It has data centres in different continents for serving the customers better, flexible, and fast experience than most other cloud computing companies. With the assurance of 100% uptime, Rackspace has become a giant cloud.
Salient Features of Rackspace
Rackspace cloud storage provides costs with the users based on their usage accurately and not more or not less.

This cloud storage provider allows the migration of applications from one environment to its cloud that makes this cloud more user-friendly and flexible.

Users on the Rackspace cloud can customize their servers at any time from anywhere without any complexity.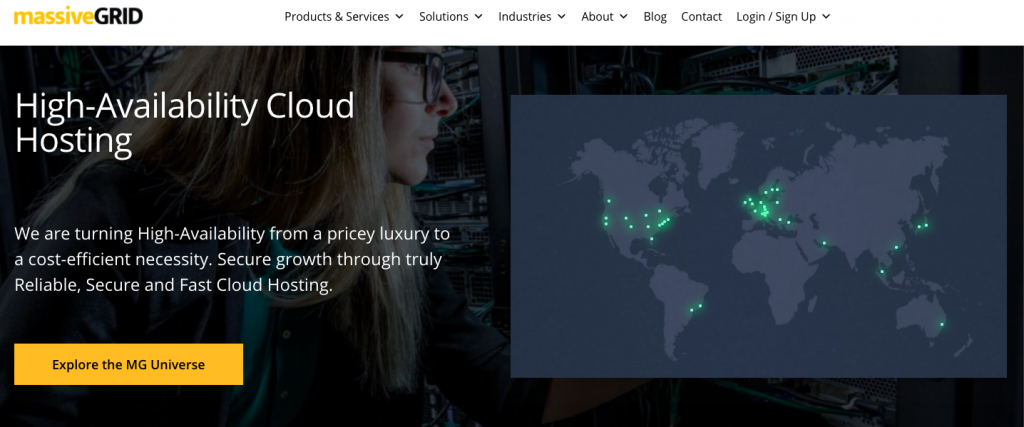 Massive Grid is a private cloud computing company that turns businesses to a high possibility. It is highly known for its tools because everything is there what a business requires. This is promised to turn into high availability minimizing cost and maximizing efficiency. It can perform as PaaS rather than SaaS and maintain infrastructure overview. It has partnerships with some high-end companies such as Microsoft, cPanel, Red Hat, etc.
Salient Features of Massive
Massive Grid has a faster network than most other cloud computing platform and the network is reliable in terms of security.

It offers dedicated clouds to the users so that the experience gets smoother, more flexible, safer than shared clouds.

Massive Grid allows customization in its infrastructure and users get their desired infrastructure according to the needs of their company.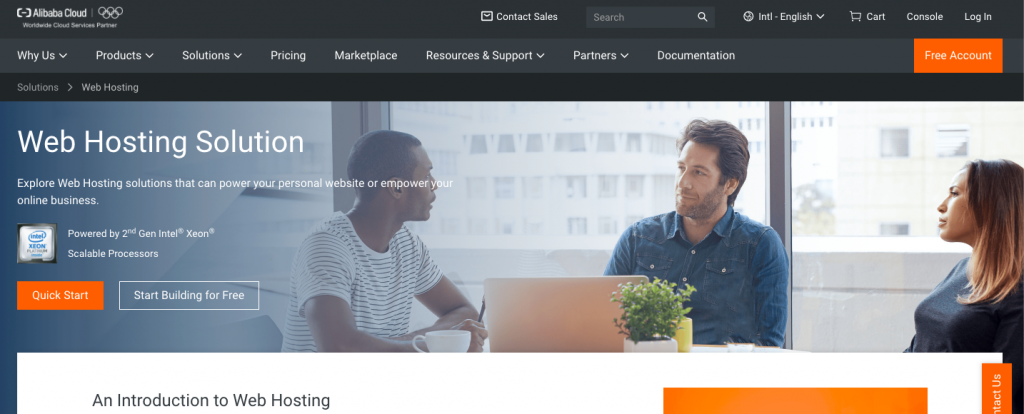 Alibaba is a Chinese multinational organization that was only an online-based retailer service provider before it started its journey as a cloud computing company in the year 2009. It run its own e-commerce site with its cloud program to encourage other businesses/companies to use it. With 19 data centres of its own around the world and 1 operated by Vodafone in Germany, Alibaba Cloud has become a giant competitive cloud computing platform.
Salient Features of Alibaba
Alibaba Cloud provides 12 months free trial with more than 40 products of it so that users get a real experience.

It has the option of getting free coupons by referring friends and family. These free coupons attract customers the most.

Alibaba Cloud helps the users with tutorial video and step by step process for setting up the cloud and using the tools.


Liquid Web is a cloud hosting company that usually works for enterprises. The pricing of the Liquid Web is quite higher than most other cloud computing companies. Liquid Web has a collaboration with WordPress that enables every feature for WordPress users. Liquid Web also allows hosting for WooCommerce sites with all the features available on the cloud. Besides enterprises, online stores and applications are also developed on this cloud server.
Salient Features of Liquid Web
This cloud service providers provide the service of Virtual Private Server with flexibility, scalability for a hassle-free experience.

Users on this cloud can develop unlimited numbers of applications and upload numerous data only using one account alone.

The customer support system of this cloud computing platform is more advanced than most other companies for ensuring that everyone's experience is positive.


Microsoft Azure is one of the topmost cloud computing companies. It is used mostly by enterprises and IT-based companies. Users can make web and mobile applications using this cloud computing platform. Microsoft has its data centres located at 22 regions around the world, and it has more than 100 features for the flexibility of customers so that they can deploy anything according to their needs and demands.
Salient Features of Microsoft Azure
Microsoft Azure is free for 12 months for the beginners to show the method of working on this cloud storage provider.

It's easier for the users to move an application or a framework without the hassle of re-coding them again.

Microsoft Azure is available with public or private cloud service or hybrid cloud service consists of both private and public.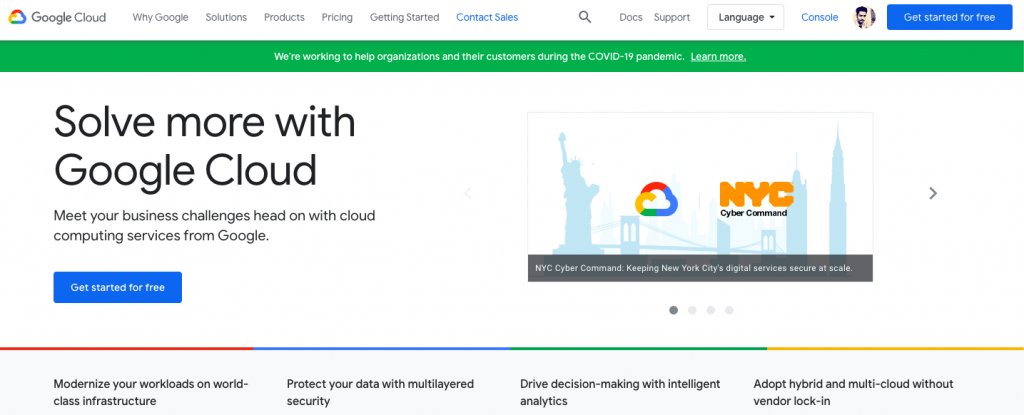 Google Cloud Platform is a multifunctional cloud computing company that comes with the service of SaaS, PaaS, IaaS. It provides the full G-suite service to a customer on its platform. This cloud service providers scales the files according to the codes given by a customer. It has become the third biggest company in the market, and to keep its position, the workers are providing updates according to the needs.
Salient Features of Google Cloud Platform
Google Cloud Platform costs only when the codes given by a user run accurately if not, it doesn't cost any amount.

Training is provided to the newcomers on this cloud site in different methods such as in-person, online, or documented video.

The customer care team is available 24/7 as a live representative or in online chat which makes this cloud computing company the best.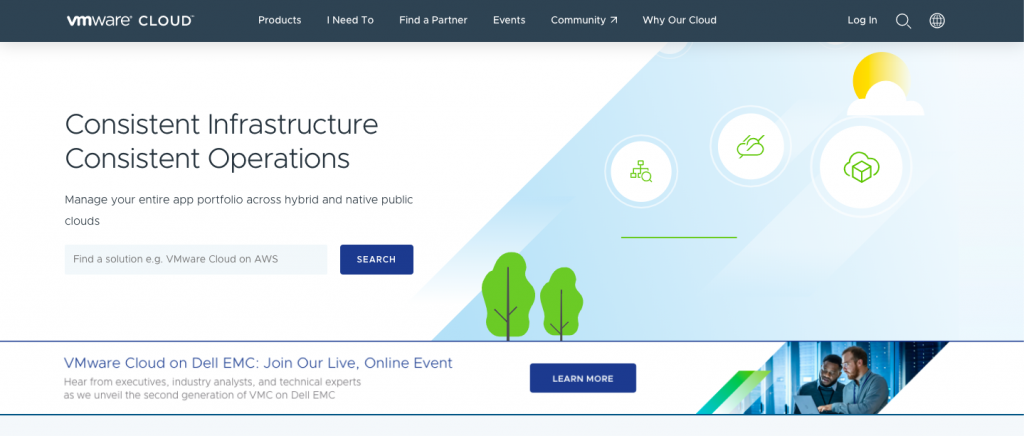 VMware is the most popular brand among cloud computing companies. It creates a modern virtual world for an organization to run, manage, store and access its data and files on VMware's cloud server. VMware offers multiple products according to the requirements of a company if it needs a hybrid cloud or multi-cloud. It has a comprehensive security system with standard infrastructure and a flexible procedure for the deployment of files or applications.
Salient Features of VMware
VMware's two products – Cloud Foundation and vRealize Suite provide a ready-made infrastructure for enterprises that lessen the hassle for a user.

This cloud storage provider provides private and public cloud services along with hybrid cloud and multi-cloud services.

Users can integrate 3rd party applications to this cloud service providers and user-customized applications are also integrable.

Salesforce Cloud is a cloud computing platform that is widely popular for startup companies or small businesses that don't have recognition at all. It serves SaaS and PaaS service that helps to grow small businesses in a disciplined way. Salesforce Cloud is an American cloud computing company and it is now being operated all over the world and serving a good number of customers.
Salient Features of Salesforce Cloud:
Salesforce Cloud offers various clouds for companies like a cloud for sales, marketing, and service for ensuring flexibility.

This cloud has a separate branch of experts which is available 24/7 for serving the customers so that they face no stiff.

Salesforce Cloud has the feature of managing contact details of clients that lessen the workload of a user.


Oracle Cloud is a cloud computing company based on ERP. ERP stands for Enterprise Resource Planning that proves Oracle Cloud is highly popular for enterprise or business use. Oracle works as SaaS, IaaS, PaaS and it also introduces DaaS which means Desktop as a Service. The company has almost 4,30,000 clients around the world and for this huge response, Oracle Cloud has decided to launch AI service.
Salient Features of Oracle Cloud
Users can create a free account on this cloud. But they will need to pay according to their usage.

What makes this cloud computing provider one of the best is its chatbot option which can help customers 24/7 whenever they face difficulties.

Oracle Cloud provides analytics on the data via users that help decision-makers in planning for the company's financial condition.


Verizon Cloud is a reliable cloud computing company as it has a security system built-in that secures the data on multiple clouds. Users can access their data files on the go at any time from anywhere. It one of the best business-friendly cloud service providers as it offers every unique tool that a company needs in the storage. Verizon Cloud offers a good and strong network with greater performance.
Salient Features of Verizon Cloud
The set-up process of Verizon Cloud is easier than most other cloud computing companies and users are allowed to customize infrastructures.

This cloud computing provider has its customer care service to help the general people 24/7 to help them overcome toughness.

Verizon Cloud has different packages that are standard, pro, and business that cost $48, $192, and $440 respectively.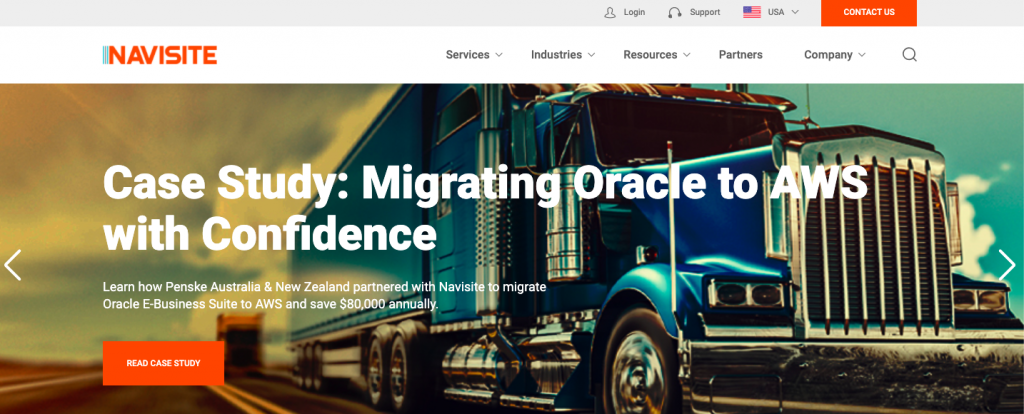 Navisite is a widely used cloud computing company designed especially for mid-level businesses and enterprises. It provides all the tools an organization wants on a cloud. Recently it has announced new features named RBAC, Airlock, and Dynamic Resource Instrumentation with a view to upgrading its security system so that it gets more response from the customers.
Salient Features of Navisite
Users are served with the service of IaaS (Infrastructure-as-a-Service) that helps users to get solve problems of their cloud server.

Navisite provides a flexible, fast, and secure experience to the users with its 6 data centres with likely 200,000 square feet each data-storing space.

This cloud computing platform provides the advantage of multi-cloud possible with VMware and Microsoft Azure with even Navisite itself.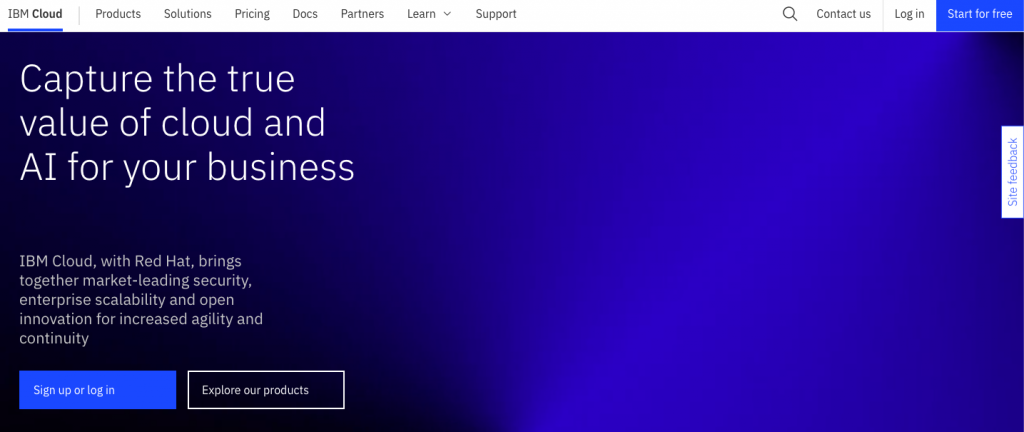 IBM Cloud is a leading cloud computing company among many other companies around the world. It offers approximately 120 services that help users to choose their tools that can meet their demand. IBM Cloud has the feature of SaaS, PaaS, and IaaS that make the cloud more flexible and fluent for one to use. This is now a great competitor in the cloud computing market and upgrading towards success.
Salient Features of IBM Cloud
Customers can make their own cloud infrastructure on IBM Cloud selecting their needs of RAM, CPU, Processor, Storage, Hard Drive, etc.

IBM Cloud can manage data or applications made with any kind of coding languages such as Python, Java, Swift, PHP, etc.

It costs on the basis of usage, but free in its lite mode with free access to more than 40 services by IBM Cloud.


OpenNebula is an open-source cloud computing platform with the advantage of IaaS. This cloud computing platform looks so simple but this smaller pepper flakes a lot. OpenNebula is a widely distributed cloud hosting with 16 data centres of its own that support users even with a commercial advantage.
Salient Features of Open Nebula
It provides private and public clouds and also the hybrid cloud service for lessening the complexity of using different clouds for different services.

The installation process of OpenNebula is easier for users to understand than most other cloud service providers.

Tutorial videos and certification videos for users to learn about the usage of the cloud is available on the cloud interface.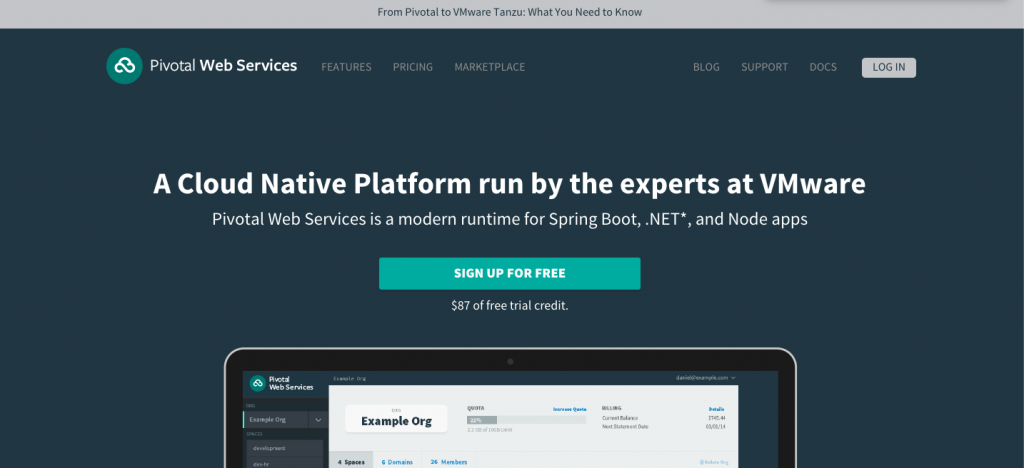 Pivotal Cloud Foundry is a publicly accessible cloud computing company that serves with the PaaS feature. It helps the authorities to lessen the workload of a company so that everything works out smoothly and workers don't get any interaction in their works. Pivotal Cloud Foundry doesn't have a pair to reduce the workload. It unquestionably speeds up the cloud for providing the taste of flexible and fast cloud computing platform.
Features of Pivotal
Pivotal Cloud Foundry does not cost any price at all as it is an open-source cloud computing provider.

This cloud computing platform offers a training session to the users for better usage of the cloud by the users.

It supports the customers with a variety of code languages on premises of the cloud to help customers in building up applications.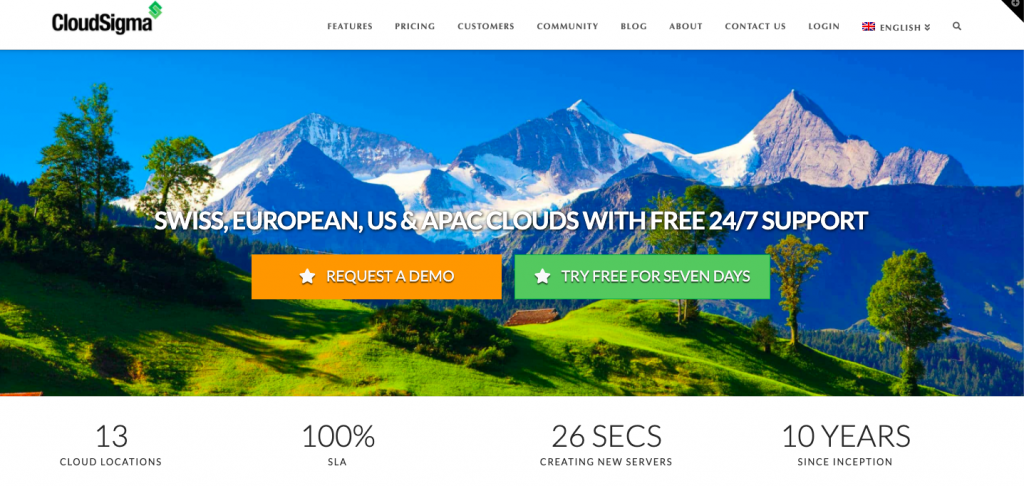 CloudSigma comes with the feature of IaaS. IaaS stands for infrastructure as a service, which means that all the computing components that are present in a computer can be found on on-net Software so that the users get a fluent experience on CloudSigma. External integrations are available for their collaborated Software. This cloud storage provider comes with the service of a hybrid cloud that reconciles between public and private cloud service.
Salient Features of CloudSigma
CloudSigma presents itself with a 7 days free trial to the beginners for understanding the features, functions, and other constants.

What makes this one of the best cloud computing companies is its representation of the feature of NUMA that stands for Non-uniform Memory Access.

CloudSigma's cost depends on the usage of CPU, RAM, storage, and data every 5 minutes, and the payable amount will be shown at the month-end.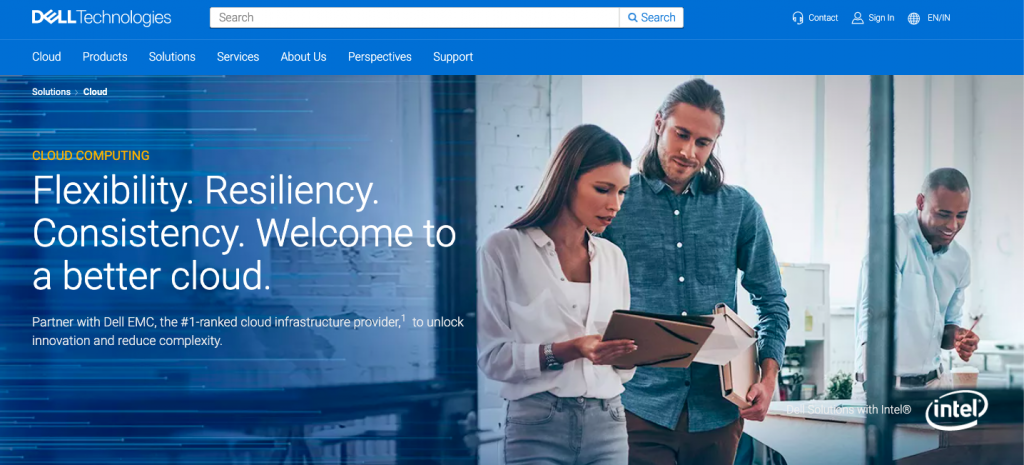 Dell Cloud is a web-based cloud computing company with all the tools available on-premises. It offers SaaS for the service of application automation and its management. Dell Cloud can be used for businesses of every type low-end to high-end with varieties of functions and features. With a good number of data centres in multiple countries, Dell serves fast, and flexible cloud service to its users.
Salient Features of Dell Cloud
Besides private and public cloud service it has the hybrid cloud service for getting the advantage of both clouds public and private.

This cloud service provider has a chatbot on its cloud site to get some instant solutions about any difficulty.

It does not prefer the pay-as-you-go method for payment, rather prefers a pay-as-you-grow method where payment increases as a business grow.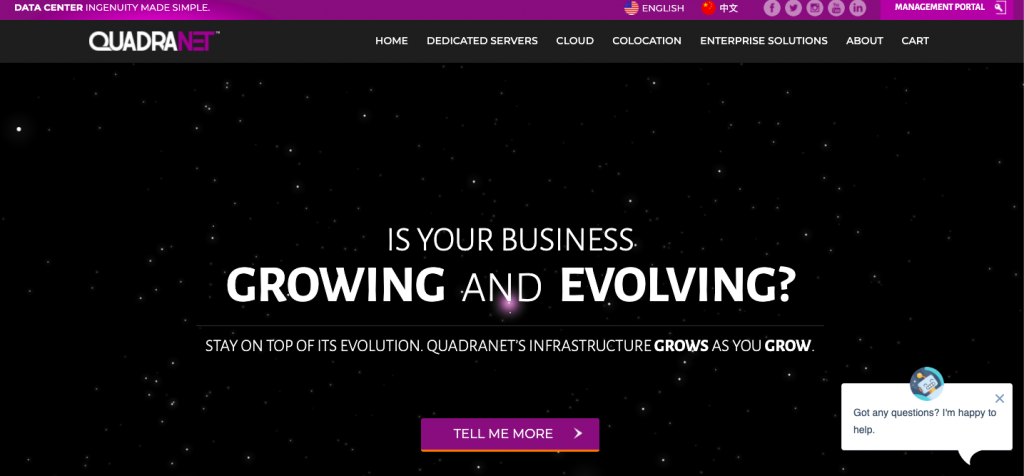 If a cloud which was created by Quadranet is fully scalable and reliable cloud infrastructure, the tool is billed hourly based on your line resource size which you can view a break down of the cost associated with each resource.
Salient Features of Quadranet
QuadraNet's uptime SLA comes default with all cloud configurations

The InfraCloud supports a wide variety of OS like CentOS to FreeBSD to Windows

The custom interface helps you to manage your InfraCloud instances
Also read: List of the best web servers