A File Transfer Protocol client, or FTP client, is software that once installed on the computer allows users to access and explore the server where their website is hosted directly from their computer. Users can use one of the best FTP clients to browse their website files on the server as if they are browsing files on their computers. Edit the files to make changes, copy files to different folders, create backups, upload files into their server, and even download files from the server to their computer.
You can do all this and more quite easily with a File Transfer Protocol client.


WinSCP FTP Client is an amazing and best FTP clients for Windows. One can use this FTP client to transfer local as well as remote files between servers.
This file transfer tool for Windows supports FTP, FTPS, SCP, SFTP, WebDAV, or S3 file transfer protocols. It has a huge user base, and the tool is downloaded for more than 112 million times.
This FTP tool comes with an integrated text editor that makes it simple and quick for the users to edit text files and upload them on the server.
Key Features of WinSCP FTP
WinSCP interface can be translated into many languages

Provides Command-line interface.

Security through file encryption.

Port forwarding is possible.

It can be downloaded in the form of standalone portable executables.


Core FTP LE was not always free but now you have the option to either pay for the Pro version or the LE version. In our opinion, Core FTP LE should work just fine for the majority of users, with its basic interface, dual-panel layout, and striking similarity to that of FileZilla. The main difference is that Core FTP LE only dedicates its development to the Windows software, so you may find it more focused on that type of experience.
Having said that, the file manager provides modules for transfers and dragging and dropping, along with a status section to understand if and when your file will go from a local site to a remote one. The majority of your tasks are performed on the same window, allowing you to search for files in a long hierarchy and bookmark the items most important to you.
Key Features of Core FTP LE
Provides command line support.

Transfer data from one site to another.

You can use the international domain (top-level domain)

Automatic retry of files in which transfer is failing.

It provides browser integration


Do not go by the name, as this is the best FTP software that has an amazing interface. It supports many features like automated file transfers, built-in text editor, and open PGP encryption. It also supports advanced features like price tags and extensions.
The CuteFTP client has a secured file sharing system known as Tappan. This feature allows you to share files between different computers and mobile devices that support Android and IOS. It is one of the best FTP clients for Windows and MAC. The only thing that goes against CuteFTP is professional fees.
Experienced users mostly use it so the price is quite expensive as compared to other best FTP clients that are available. The plan starts from $59.99 for Windows and for MAC users the plan starts from $39.99.
Key Features of CuteFTP
Supports fully automated transfers.

Quickly monitor local folders for any change.

You can connect to a new site with step by step wizard.

Supports more than 100 concurrent transfers.

You can view thumbnails of remote images.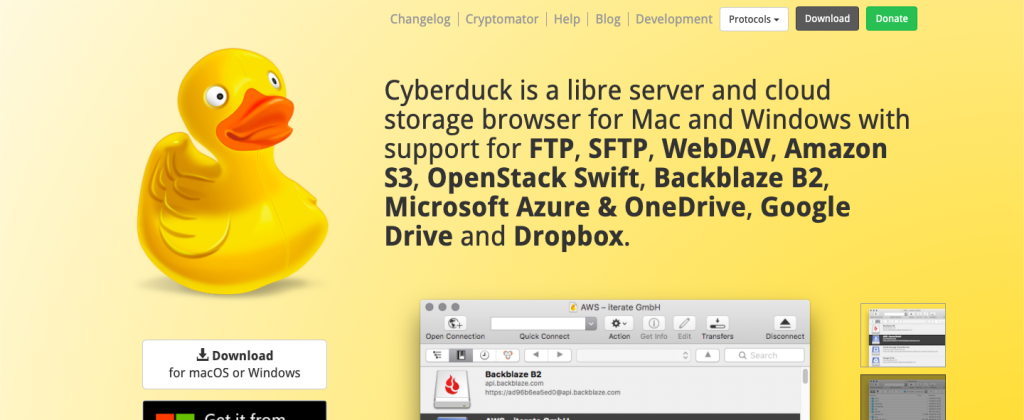 Cyberduck is yet another open-source FTP Client that provides support for Windows and Mac OS X. If you do care about the looks of the best FTP clients you use, you would be interested in using Cyberduck. It provides support for FTP, SFTP, OpenStack Swift, WebDAV, and Amazon S3. There is also support for using Google Cloud Storage and Rackspace Cloud Files, making it easy for you to deal with your sites. As compared to other tools, Cyberduck has optimized options for organizing and bookmarking, like Spotlight Importer, history, etc.
Graphical User Interface (GUI) of Cyberduck is so impressive, especially considering the easiness in terms of browsing files! Quick Look feature allows you to have a preview of a file, whereas the support for external editors helps you edit website files instantaneously. Also, there are extended features in the transfer section too, such as notifications in the system tray and Synchronization. Integration with system technologies also makes Cyberduck popular, like support for Finder in Mac, Windows keychain support, etc.
Key Features of Cyberduck
Offers filename and file content encryption

Quickly copy or select the file URL from the web browser.

You can browse images with ease.

Importing bookmarks from third-party software is possible.

Browse a large folder structure without any hassle.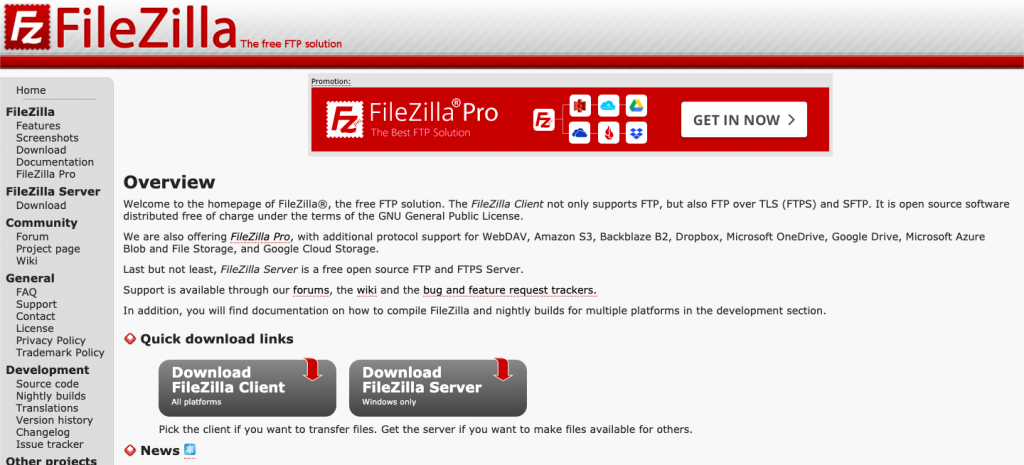 FileZilla used to be one of the best FTP clients out there, especially with support for Linux PCs. However, recently the application turned out to be a malware-infested nightmare for Windows users. So, we highly recommend Windows users to avoid using this FileZilla or at least avoid downloading the application from Sourceforge.
Other than the malware issue, FileZilla is one of the most decent and best FTP clients one can use to transfer and manage their files. Linux and Mac users do not have to worry about the malware and FileZilla is still a favourite among many developers who use Linux PCs.
Features of FileZilla
Comparing directory is possible.

You can edit remote files with ease.

Available in numerous languages.

Supports FTP, SSH File Transfer Protocol (SFTP) and FTP over SSL/TLS (FTPS).

You can configure the speed of file transfer.


CrossFTP is one of the best FTP clients to handle data sync/transfer on Windows, Linux, and Mac. It enables you to handle database and file backup. In cross FTP, you can connect many site connections inside a single window. The latest version of this software protects your password through encryption. The program was developed in the year 2006 and supports several network protocols. The free version provides the support of FTP, the paid one – FTP over SSH, SFTP, FTPS (FTP over SSL), FXP, DAV / HTTP(S).
CrossFTP enables users to compress, browse, and extract archives. It offers sound and event notifiers. It provides a piece of convenient history information.
Key Features of CrossFTP
Find the file on the server with just one click.

Transfer data batch-wise.

Zoom facility to preview

Offers sound and event notifiers.

It provides a piece of convenient history information.

gFTP is a widely known file transfer protocol client mainly popular for UNIX operating systems, Linux and Mac OS. The program was launched in the year 1998 and translated into 50 languages. One can use this client both through a graphical user interface (GUI) and a command line. Plus, gFTP supports the majority of modern network protocols.
Key Features of gFTP
Bookmarks allow quick access to remote connections.

It supports FTP and HTTP proxy servers.

It supports FTP, FTPS (Control Connection), HTTP, HTTPS, SSH, and FSH protocols

Cache Clearing.

It supports FXP.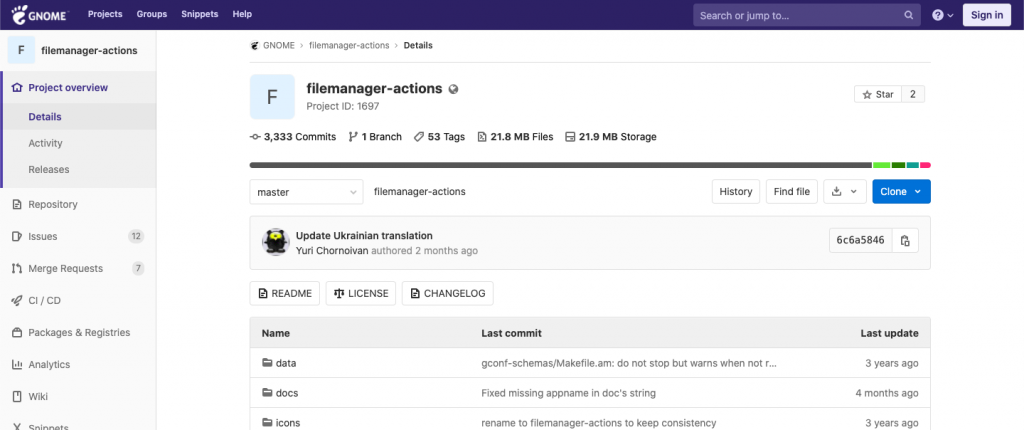 This list remains incomplete if I do not mention the Nautilus FTP client. This server file transfer protocol client is very basic which comes pre-packed with Ubuntu installation. It is straightforward to use and integrates well with Ubuntu. However, this Linux FTP software does not offer many features about FileZilla or any other fully packed file transfer protocol client. The interface is very familiar and uncluttered. Nautilus allows you to have an easy way to connect and transfer files through FTP and makes the process as easy as just copy-paste.
Key Features of Nautilus
Fast transfer

The interface is very familiar and uncluttered.

The transfer process is very easy.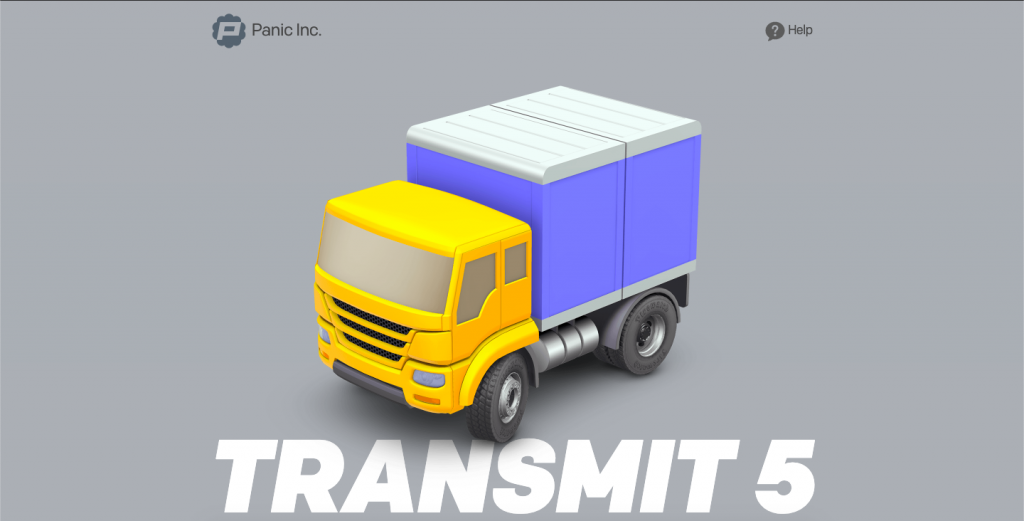 If you are a Mac user who is looking for something, Transmit has some unique features that make it stand out on its own. On the surface, Transmit provides a wonderful interface for managing your files and linking them to several servers at one time. One can upload, manage, and download all from one place, while also connecting to favourites such as Box, Google Drive, and Backblaze.
As with many of the Mac file transfer clients, Transmit has a free trial to test. However, the main software sells for a price of $45. This is only for one license, but you receive discounts the more licenses you purchase. For instance, 10 copies of the Transmit cost $43 per copy. It is not a huge discount, but decent for companies that need the extra copies.
Key Features of Transmit
Provides authentication using NTLM (New Technology LAN Manager) and HTTP Digest authentication.

Languages supported by this tool are English, French, German, and Chinese.

Provides more text size-related options

This FTP client sync progress bar to know how much file synchronization is completed.

It offers various authentication methods to verify the user.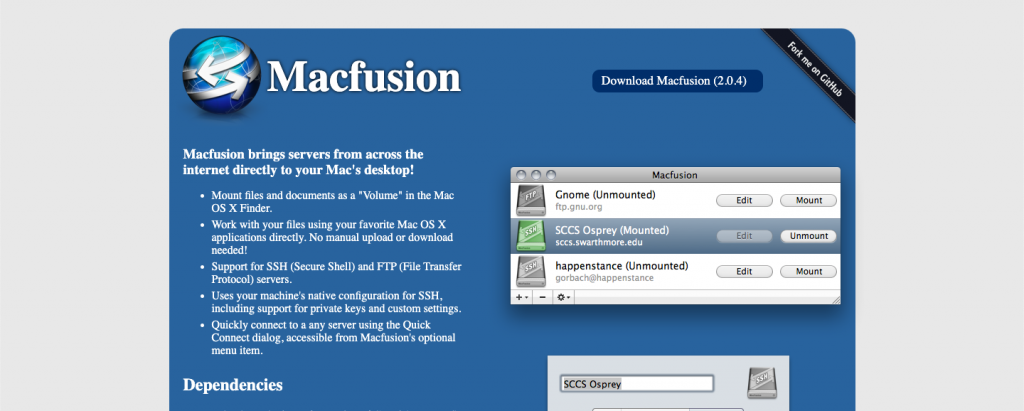 First of all, it is worth noting that MacFusion is dependant on you having the latest version of Google's MacFUSE software installed to operate. For this reason, it is certainly not the most simple application, to begin with, though equally, it is not the most difficult.
What it offers once you are set up, on the other hand, could not be simpler. Instead of having window after window of complicated-looking directories and options, MacFusion provides the bare minimum.
MacFusion simply allows a means for you to connect to your servers around the web, and after that, it is placed as a volume on your machine which you can mount and unmount at will using the most basic of interfaces.
Key Features of MacFusion
Macfusion works with SSH/SFTP and FTP servers.

Designed for MacOS

works with the majority of network protocols.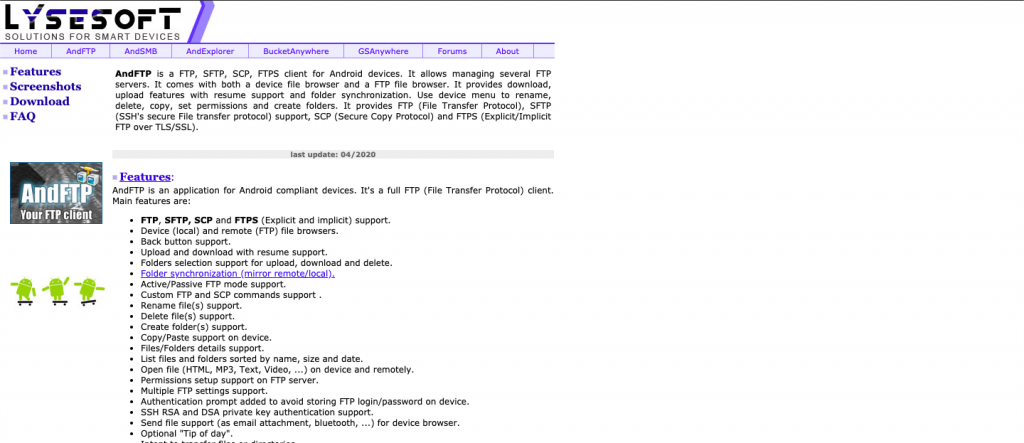 AndFTP is one of the most popular file transfer protocol client for Android. Using AndFTP one can connect to multiple protocols such as FTP, SFTP, SCP, and FTPS over Explicit and Implicit TLS or SSL. Once connected, one can browse through it and perform various tasks such as uploading, downloading, editing, renaming, deleting, etc. If you want to, you can even update file and directory permissions and run custom commands. AndFTP also supports folder synchronization, share from the gallery for quick sharing and intents that let third-party applications to interact with your file transfer protocol account.
Key Features of ANDftp
This is an FTP, FTPS, SCP, SFTP client.

It can manage several FTP configurations.

ANDftp comes with both device and FTP file browser.

SSH RSA/DSA keys support.

Share from the gallery is available.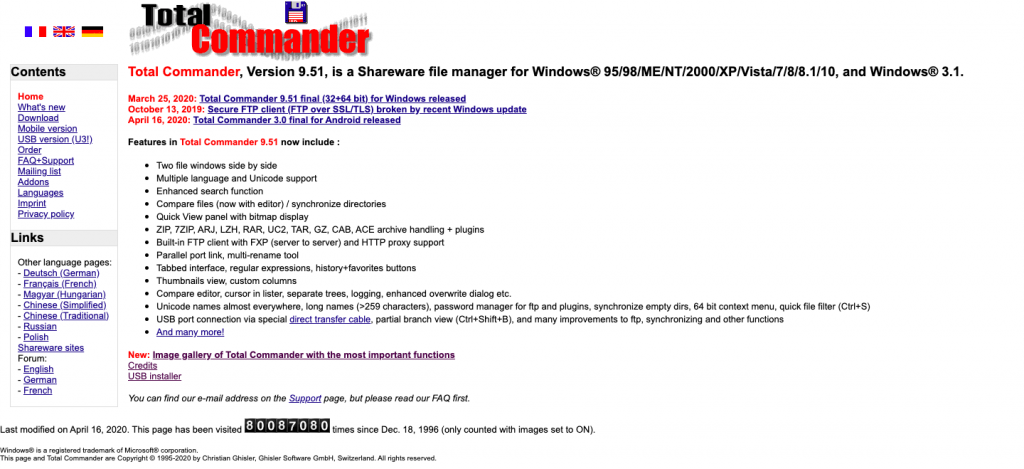 Total Commander is an older app that has supported Windows platforms all the way back to Windows 95. Of course, it also supports everything up to Windows 10, so this is really one for the old-school FTP aficionados. This does not mean that Total Commander is lacking in modern features though. On the contrary, Total Commander is a great FTP client that offers everything you would expect.
The interface is as simple as possible, with all information in a single screen that is split between the local files and the remote FTP server. It also has full support for Zip and other archive files, making it a no-fuss FTP program for people who just want to get the job done right without all of the bells and whistles.
Key Features of Total Commander
The built-in FTP client supports most public FTP servers and few mainframes.

Resume aborted downloads.

Download in the background (separate thread).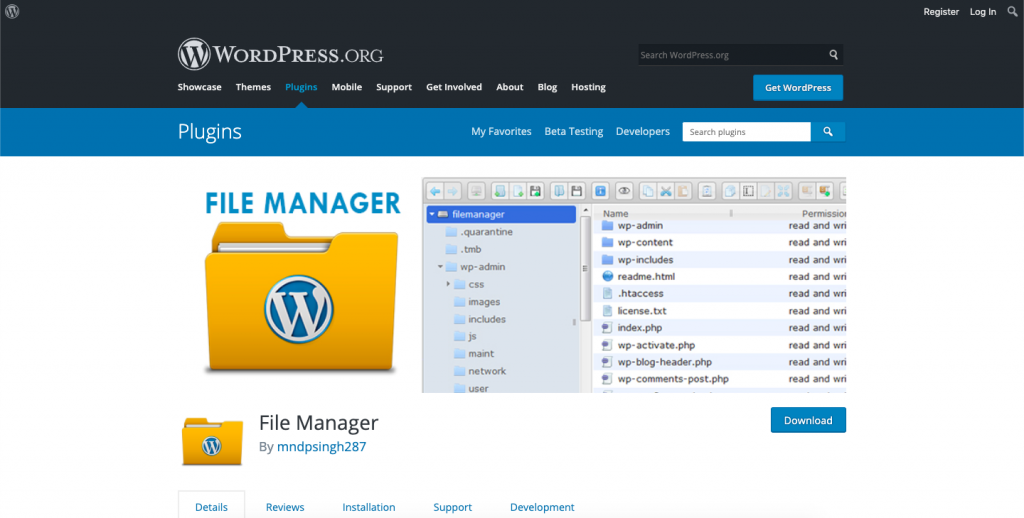 File Manager is a free WordPress plugin that lets you access and explores your core WordPress system files directly from your WordPress dashboard without having to use an FTP client.
Even though it is technically not an FTP client, the File Manager plugin provides WordPress beginners an easier way to upload, delete, copy, move, and extract files on their WordPress server without any requirement of technical experience or having to install an FTP client on their computer.
Key Feature of File Manager
It allows managing data within a file system.

This can turn a smartphone into an FTP server.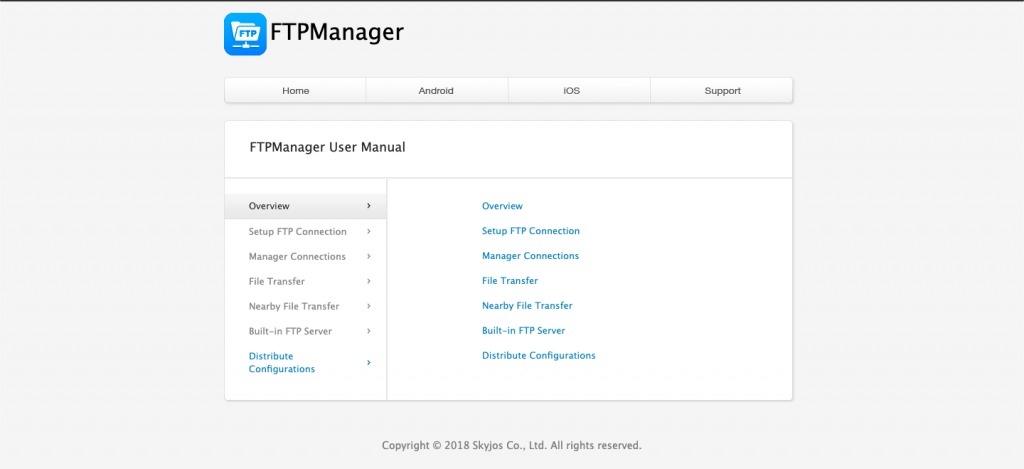 FTPManager is an FTP and SFTP client application. It can directly access your files on the file transfer protocol server and SFTP(SSH) server. Manage files, read documents, view photos, play movies, and music right on your iPhone and iPad.
It has a built-in FTP server. You can use it to transfer files between computer and iPhone/iPad over a wireless network.
Key Features of FTPManager
You can work with files and use different network protocols.

It is offered for free.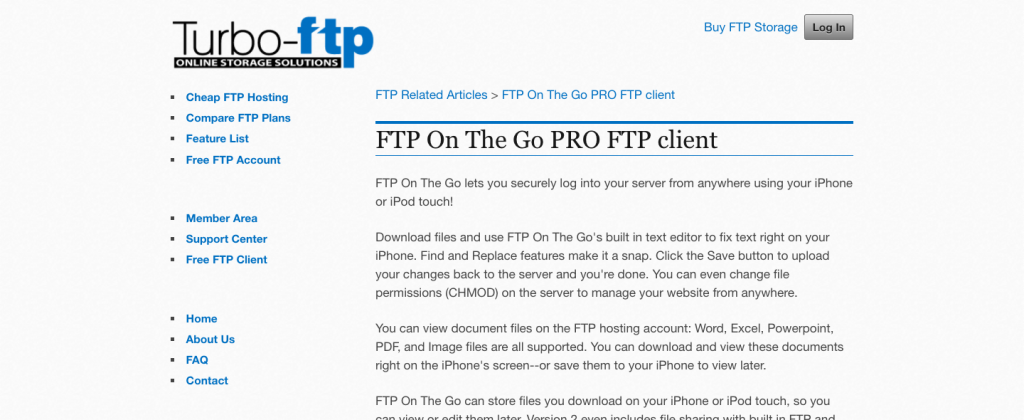 FTP on the Go is a full-fledged FTP program that works from your iPhone or iPad. It allows you to download files, upload files, edit files, and do almost anything you could do from a desktop FTP program.
Key Features of FTP on the Go
It is a paid mobile app designed for iOS

It offers file editing.

Syntax highlighting.

After reading this article, you will be able to easily choose one of the best FTP clients that are the most suitable for your specific requirements. This article will help you to understand which product is best for which functions. To access remote files, in addition to the desktop software, one can also use mobile apps. We hope this article was useful and interesting for you. Stay connected with us, as there is a lot of interesting waiting ahead.
Pro Tip: Check out our other articles on dev tools.