As the year 2022 will approach, our houses and offices together will be hosting more than 40 million IoT devices and these devices include everything which is related to you either it's your smart speakers or your AI-enabled devices on your wrists or the screen-touting kiosks at the local mall.
The founder of KISSmetrics, Neil Patel that internet is on the path to becoming "Ever present, which means that for those people who are living in the developed cities, the internet and all of its components will play a role in society and home with the help of hub of devices, speakers, screens and touchpoints.
Brands who are looking for gaining the consumer's attention such type of environment can put up a challenge and can bring many opportunities also for you. The first question which brands have in mind in front of them that how can we get our content to reach the targeted audience very efficiently, at the correct time and through right devices, where there are so many things working in between?
Moreover, they will be having questions that how can they scale there content marketing and plan the strategy of advertisements so that they can cover or devices at the same time.
What is Headless and Decoupled  Content Management?
Before we go in deep into the topic, Let's quickly get the revision of what headless and decoupled and content management is. A Headless Cloud CMS is as similar to old CMS, but it is not having any way to present the content being created and get stored in it. In simple words, it gives us access to create, read, update, and delete the content.
Maybe this is sounding like counterproductive in a first hearing, but the idea behind this is we are very happy that there is lack of a front-end deliver layer, and the brands can use any of the front-end tool whichever they want for the presentation of the content, which means they can deliver the content beyond any websites and apps, after reaching any of the channels from kiosks to smartwatches and in fact inside a virtual reality headset.
A Decoupled CMS also works very similarly, but in addition, it also gives some front-end tools such as templates and advanced modelling features drag and drops content. Hence it has ahead, it gets decoupled from it and it will also allow the organization to get in other front-end-tools on the ad-hoc basis.
While this is nothing new, the demand for this kind of solution is, as if you are running a business you will definitely look to deliver your content at the correct time to the locations which are outside the standards web browser.
The Growing Need for Headless Cloud CMS in 2020
For answering the two questions, which we have seen old and new content management systems is taking the title of "Headless CMS" in the last few years.
The main purpose of many Headless CMSs if only to bring an era of IoT, some of the providers have re-branded and also re-aligned their technologies for offering the headless content management, and also claimed that their technologies are never been stopped for an API-driven approach for the purpose of the delivery and also for the purpose of content management.
In the hurry of meeting the needs of the brands and indirectly pleasing the consumers this setup has created so much of buzz in the environment of headless cloud CMS that how will it work, how they can be made easier, and also which one is the best. But the needs, as well as demands of the brands for content management, has gone beyond the pure headless in 2020. 
Many of the brands these days are wanting and even have a need of head-on and head optional capabilities which is expected from their CMS to give more power to the marketers and also the business runners from different channels. This results in the change in CMS landscape and that hybrid is becoming new headless.
For helping the new companies, small scale business and different enterprises, you should take the headless with confidence, we have brought a list of 20 Best Headless Cloud CMS solutions that you should be knowing and using it for your benefits.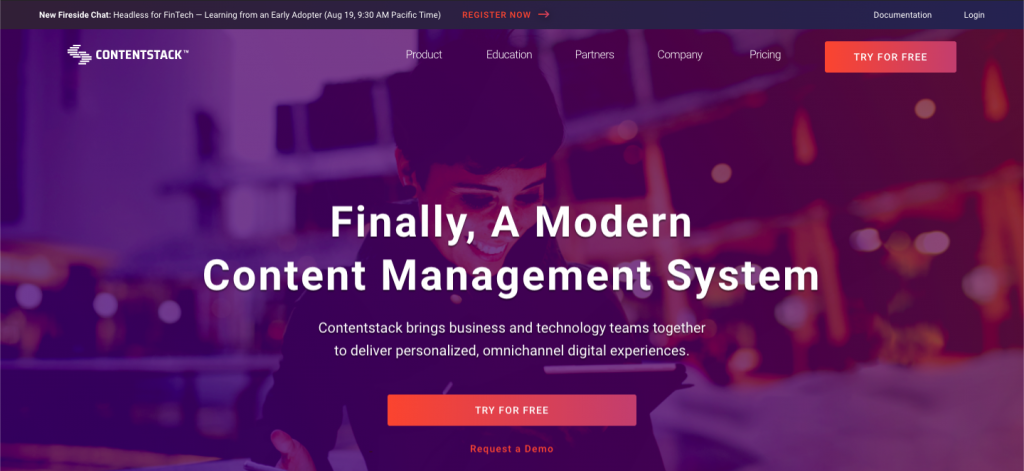 Contentstack was developed by San Francisco based company built.io, which was founded in the year 2007. It is a headless cloud CMS and it provides RESTful APIs. This includes features like content previews, collaboration, management of asset, management of workflow, and versioning.
Turnkey integrations for the tools like Marketo, Salesforce and Eloqua, and comes in this bundle with these features. This is available as a free trial version and premium, as well as enterprise plans, are also available in this CMS solution.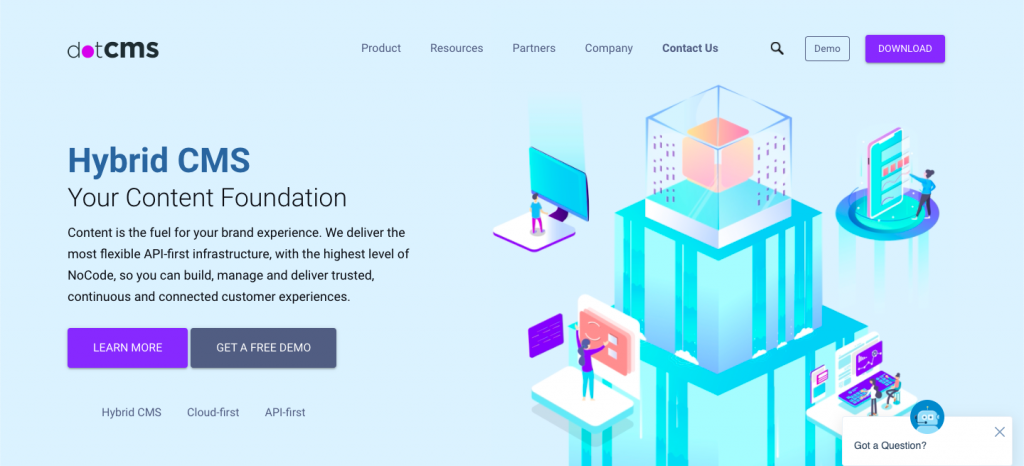 dotCMS is an open-source headless cloud CMS which was founded in Miami, Florida in the year 2003 and this became an important part of the content management world. Their java features are having multi-lingual and multi-tenant capabilities, with involving WYSIWYG editor and with drag and drop features that gives the permission to marketers for engaging in the content modelling, building the workflow, and layout of the page modification.
We can host DotCMS either on-premise or in the cloud. This platform also gives the detailed dashboard, personalization, building of custom endpoint, with the integration with AWS, Docker, Salesforce, and other third-party developer and martech tools.
It is available in a free edition for downloading as well as enterprise plans are also available.

Contentful was founded in 2013 by Germany-based contentful which offers an API-driven headless cloud CMS. Contentful's RESTful API gives the developers full programmatic control of content, digital assets, as well as translations. This also takes advantage of the caching techniques and external CDN integrations for giving permission to deliver API payloads in the range of 100ms.
It also has the capability to display JSON snippets, a rich editor of the text, and modelling features of content which will allow the marketers for the arrangement of specific fields and content modules for example text, images and calendars.
It is available in the free plan for downloading with premium as well as enterprise plans.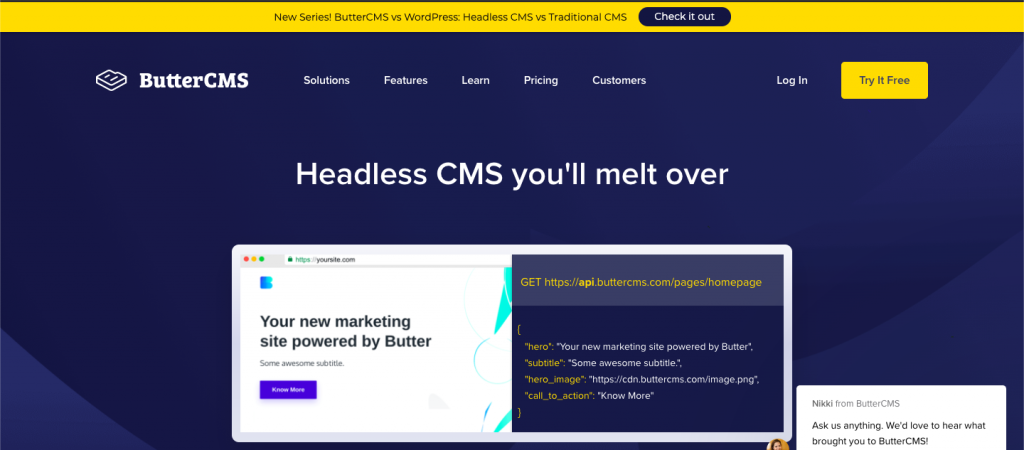 Butter CMS was developed Chicago is also a part API-first CMS and it was launched in 2014. This also includes some features like a custom, multi-site support, testing environment, and an admin interface which can easily be modified and easily edited. Butter CMS also provides an independently blogging platform that you can also add in many frameworks.
For marketers, It does provide a WYSIWYG interface for supporting the production of SEO landing pages, customer case studies, company news and many more things.
It is also available in free trial version as well as premium and enterprise plans.


Mura was developed by Blueriver, Sacramento CA, and it is a decoupled open source CMS that is coming with myriad features for marketers as well as IT professionals. For the help of the marketers is customizable WYSIWYG editor, creator of custom navigation, previews of multi-device content, and analytics dashboard which is already built-in.
APIs can give benefit for developers, Docker support, CSS framework support, and supporting popular JavaScript frameworks, for example, Vue.js, React.js., and Ember.js.
It is available in the free version for downloading.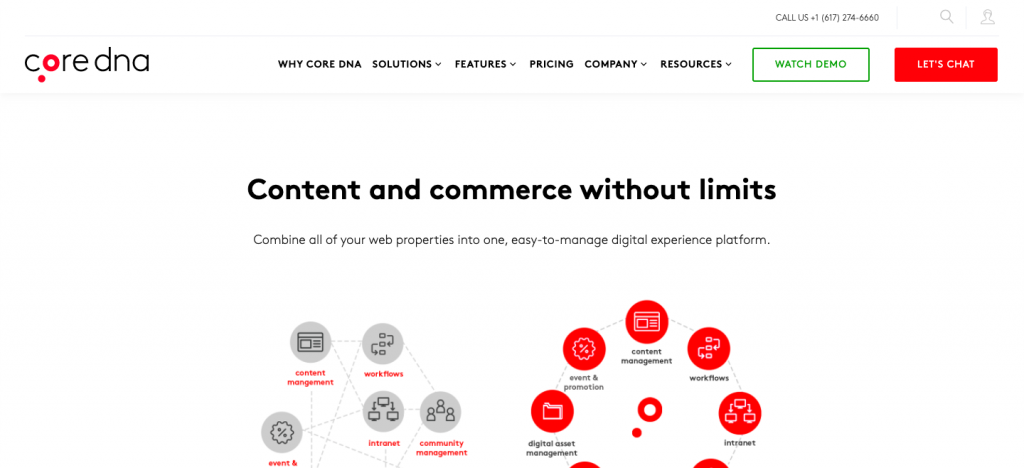 Core DNA is a proprietary headless cloud CMS was developed in Boston has made up more than 80 applications which gives support to the management of digital experience, eCommerce, portals, and intranets.
Adding a multi-tenant and decoupled architecture, the SaaS platform allows some features which enable personalization, multi-site management, localization, integration, framework agnosticism, and detailed management of the inventory. This also has a WYSIWYG editor which gives support to rich text and management of the media.
It s available in the premium and enterprise plans for downloading.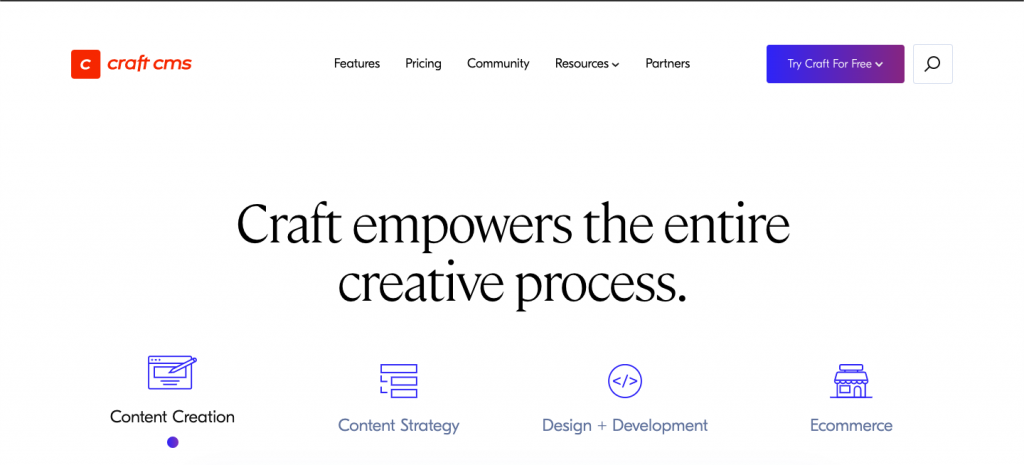 Craft CMS was founded in 2013. This craft CMS is based on Bend OR and it is a "content first" headless cloud CMS that gives permission for the creation of experiences in the environment of their content.
This gives you many features including custom fields, drag and drop layout management, management of multi-site, localization, management of asset, previews of live content, and very importantly an image editor already built inside. Every user is also having the permission to get their customized dashboard.
It is available in free, premium and enterprise plans for downloading.

This CMS is based on San Deigo decoupled CMS and this CMS has been developed for both marketers as well as for developers.
For helping the marketers, this provides templates and building page, management of the workflow, automated SEO, advanced SEO tools, and the capability of launching the microsites and landing pages without involving It in it. For the help of the developers, it is serving content-aware templating, building of custom endpoint, staging environment which is already built-in, and modifiable content models that do the shipment of the headless JSON APIs.
It is only available with enterprise plans for downloading.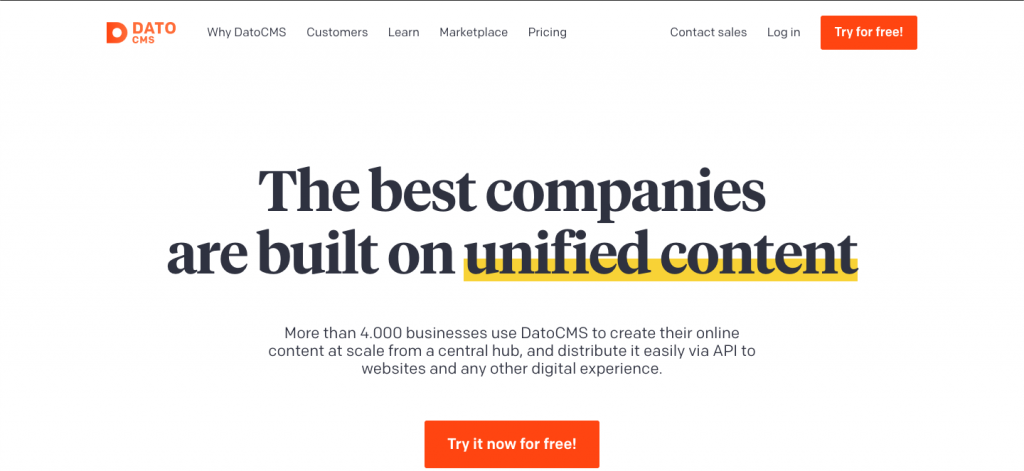 It was developed in Italy and it is a headless content as a service(CaaS) stage. It does support multiple languages, and it also gives permission to brands for organizing digital assets in folders, it locates the files stored in media with the use of AL-powered tagging or any other capability like complicated search, and also help in publishing them wherever we have a need of it.
It is only available in the free plan for downloading.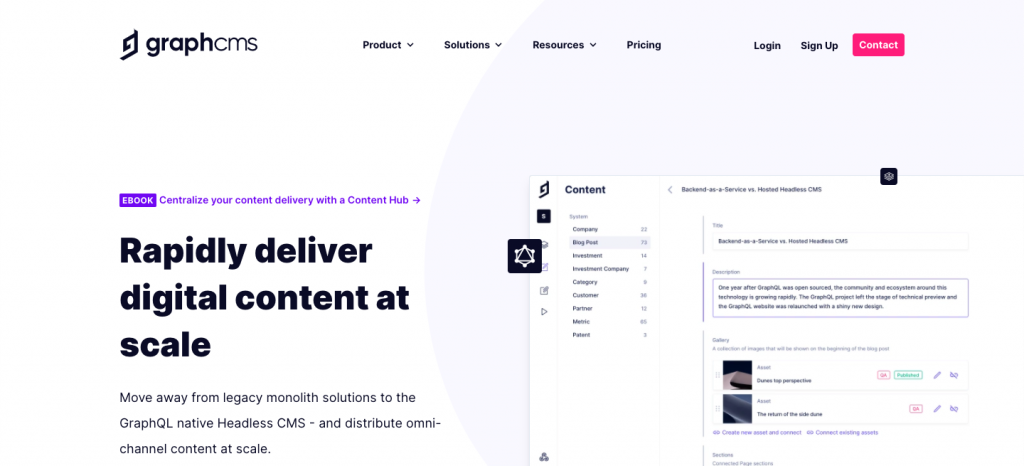 This CMS was developed in Giessen, Germany and it is an API-first CMS that was allowed to get an entry in the market in the year 2017. GraphCMS is basically based on GraphQL, which is a language for data query that few of the developers in the market consider this as the success on REST.
This gives you permission to develop a hosted GraphQL backend for using this into your application where you have the option to define structures, relations and giving permissions for using your data of the application. It is included with so many tools for the creation and the management of your content, including editors of text, managements of asset, workflows, roles of the users, and most importantly multi-lingual support.
It is available in free, premium as well as enterprise plans for downloading.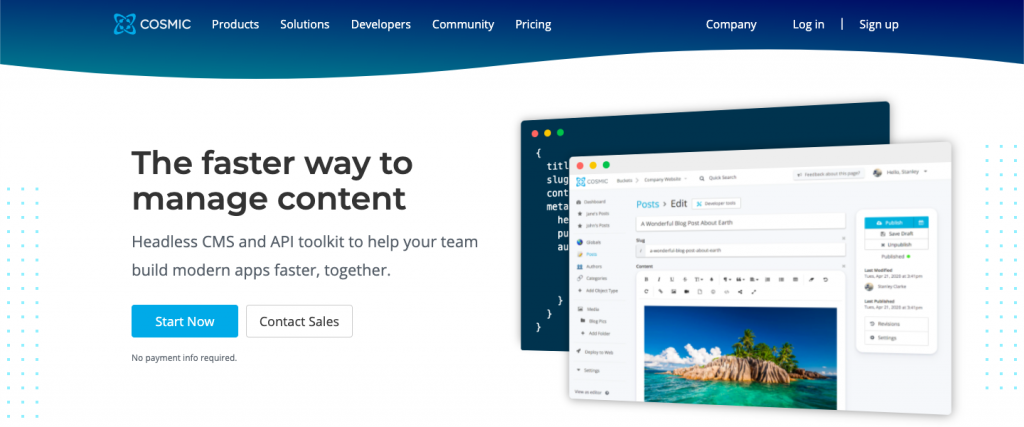 It is a headless cloud CMS stage which hosted by the cloud that gives both the APIs i.e. RESTful and GraphQL. This stage also features the modelling of the content, localization, webhooks, management of the media, and a WYSIWYG editor in which you can enter the code from any third-party providers such as GitHub and Typeform.
It is available in a free community edition to download as well as premium plans are also available.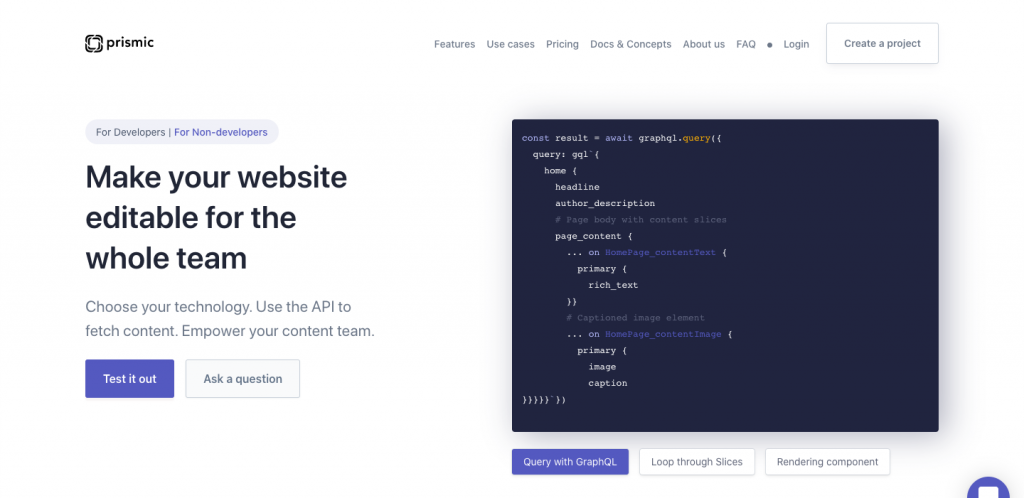 This headless cloud CMS is also developed in San Francisco and it is a SaaS headless CMS that is having few things already in-built such as visual editor, custom type builds, supports multiple languages, and also the full revision of the history. It includes scheduling and management tools for a project for enabling the collaboration and the management of the workflow.
It gives the developers a special kit for development for the programming language or any framework they preferred.
It is available in free, premium as well as enterprise plans for downloading.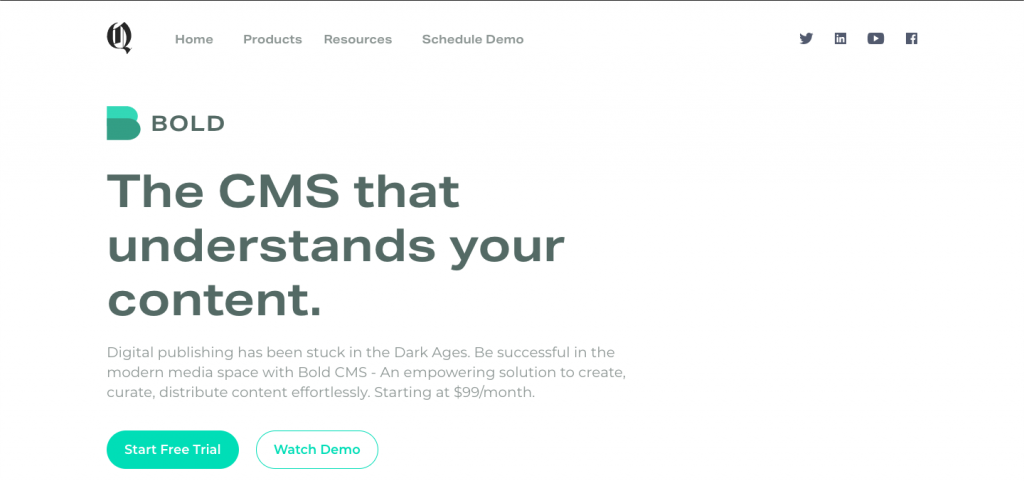 It is an Indian based and it is an API-driven headless cloud CMS which is fully focused towards digital media organizations and outlets of the media. It was basically founder in 2014, and it has a built-in editing interface that gives your permission for the production of collaborative content and also features management of the workflow, automates the publishing, organization which is car-based, and also does support for both multilingual and content which is multi-format. It is available in free as well as enterprise plans for downloading.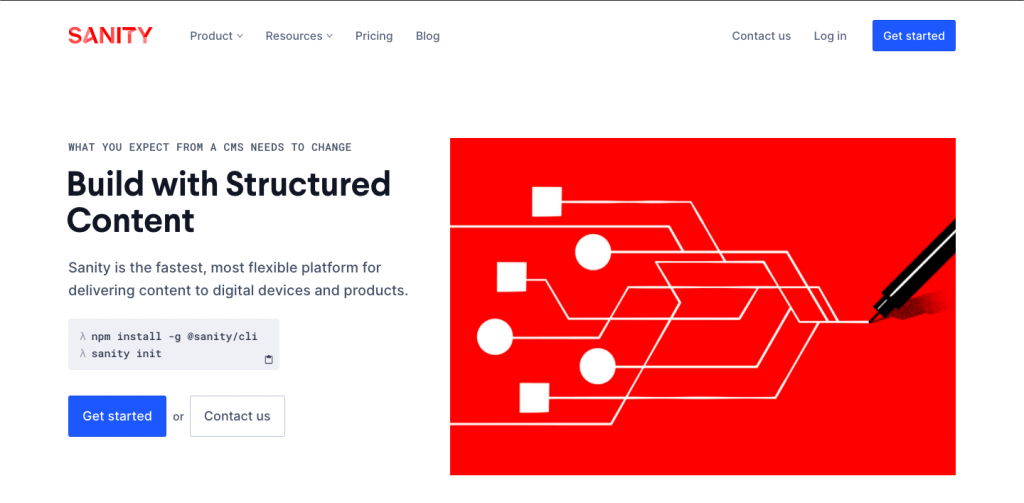 It was developed and launched in the year 2015, and it is an open-source headless cloud CMS. This is built on JavaScript and React.js, and it also includes some features like WYSIWYG rich text editor, which gives you permission to put your text which can be edited in the running text and make difference between their mark-up so that we could save our time. It also has one more feature which is Sweet Query API and this gives you permission to take multiple queries on a single request.
It is available in free, premium as well as enterprise plans for downloading.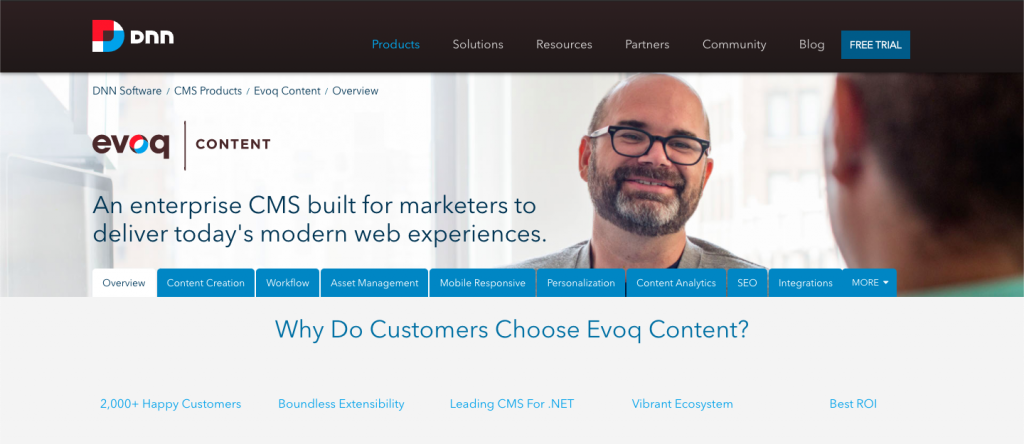 This is an open-source decoupled headless that offers you DNN software which is offering from |San Mateo CA, which is a world of CMS. This gives you some set of features which is has been made for both marketing and IT industry. In this marketers are provides access to WYSIWYG editor, editing f inline image, a content layout module, and "Liquid Content" and as the interface of the name is suggesting allows the content for flowing to any of the channels.
For the help of the developers, so they have access to a module creator, which has JavaScript libraries and a .NET API already built-in inside.
It is available in the free trial version, premium as well as enterprise plans for downloading.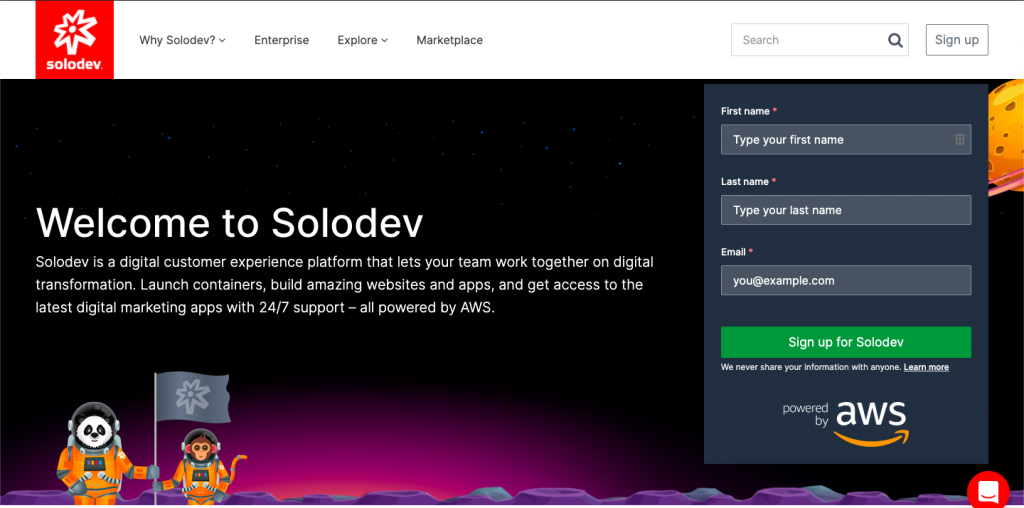 It is a stage for the management of the content and digital customer experience(DCX) which gives permission to solo people and large organizations to work together on the transformation which is done digitally in the cloud.
It is also powered by Amazon Web Services(AWS), and it also provides many features such as security of enterprise-grade, scalability, and redundancy. Your users will have the option to choose from a theme that is already built-in or to go for the custom theme and get started from scratch.
Solodev's demo is available only and in fact only on request.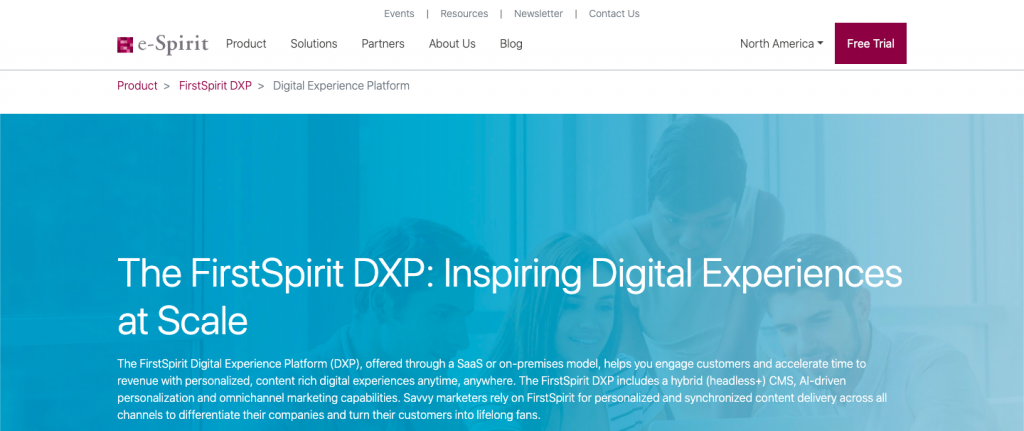 This is a stage of digital experience which is based on SaaS from Lexington. FirstSpirit is having some features such as Hybrid tooling, personalization, omochannel market capabilities.
It demo is available and only upon request.


This was built by a group of people who constantly have been contributing to the open-source field and it is an extensible CMS built for React. This stage has a very editor friendly interface and it also makes workflows of the content authors very fast and very easy.
It is open-source and it is free for downloading.


This stage is a stage for the digital experience which is based on Diamond Bar, Calif and it gives you permission to the users to move completely in the headless world, or you can also use it in a hybrid or in the environment of decoupling. Enterprise communities have access to use this for the creation and for connecting personalized digital experiences across different platforms such as mobile, web, social, etc.
Its demo plan is available only upon the request.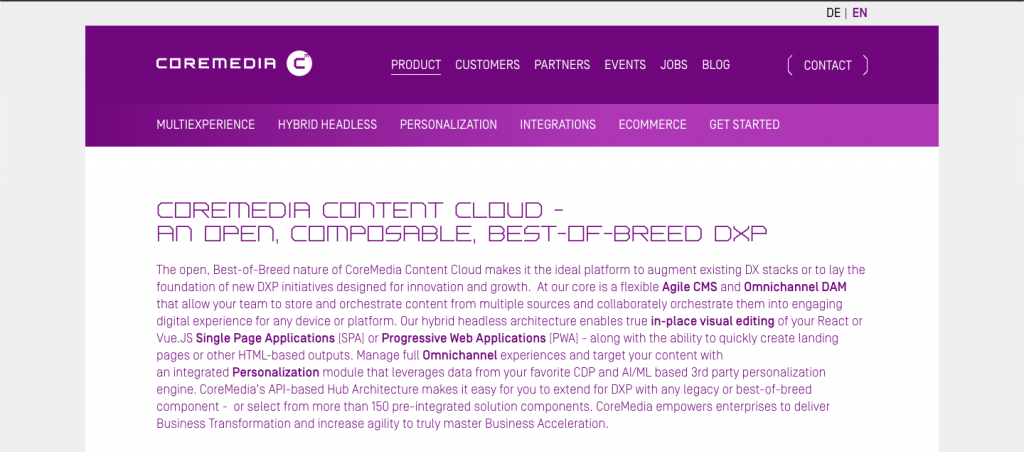 The business which is growing from 1996, in that this Germany based tools giving permission to the marketers, merchandisers, and developers for working together to create, view, and modify the digital-based experiences.
Its demo plan is available upon the request.
Choosing a Headless CMS? Look Beyond The software
This list of 20 best headless cloud CMS has spoken and shown to you that you have so many options. Which Headless CMS are you keeping tabs on in the year 2020? You can also check out Node.js Content Management Frameworks.